In 1965, Jim Morrison and Ray Manzarek were at film school in LA, working on projects together, when they realized they also shared an interest in music. After Manzarek (a classically trained keyboard player) began to add Morrison's poetry to a Blues soundtrack, they joined garage rockers (Ray's brothers) Rick & The Ravens. However, they soon discovered a more inspired backing from two buddies who had previously been employed by The Psychedelic Rangers. Robbie Kreiger (guitar) had been raised on a diet of Chicago Blues and this, coupled with flamenco-style guitar tuition and exposure to R&B radio, had helped him to forge a unique style, while John Densmore (drums) was a would-be beatnik frequenting clubs such as Shelley Manne's Hole, listening to John Coltrane. The band took its name from the poet-visionary-artist William Blake, who had written, "When the doors of perception are cleansed, things will appear to man as they truly are... infinite." English author Aldous Huxley was sufficiently inspired by Blake's quote to title his book on mescaline experiences, The Doors of Perception. Morrison was so connected to both works that he proposed the name The Doors to his band mates. Everyone agreed that the name, as well as the inspiration from which it sprang, was perfect to convey who they were and clearly representative for what they stood for. The quartet put a year into rehearsal and songwriting, which led to bookings on Sunset Strip and eventually a residency at the Whiskey-A-Go-Go. Throughout 1966, The Doors played alongside the rising stars of the day, including The Byrds and Van Morrison's Them. The two Morrisons became close, jamming together and comparing notes on Blues standards.

In the early months of the band's live performances, Jim Morrison tended to slink around in the shadows with his back to the crowd, but soon his acid-influenced musings inspired him to strike more heroic poses, such as using the mike stand as a penile extension. The Doors' music was of sufficient quality to impress the LA crowd and Arthur Lee of the band Love recommended that Jac Holzman, head of Elektra Records, should witness the small-scale performances while he had the chance. Holzman had to fend off Frank Zappa and Columbia Records in his bid to sign the band.

The Doors were somewhat of an anomaly in the Rock pantheon. They weren't part of the peace and love Airplane-Dead-Quicksilver Acid-Rock movement of San Francisco. They had nothing to do with the English invasion, or even conventional Pop music for that matter. Even in their home town of Los Angeles they were considered a world apart from the predominantly Folk-Rock peerage of The Byrds, Buffalo Springfield and The Mamas And The Papas. The Doors were never part of any movement. Indeed, during an era of very high fliers, their visionary trajectory sought an orbit positioned well outside of the Rock norm. Their journey was driven by a unique group vision and a determination to push the envelope of poetry, spirituality, intellect and psycho-sexual exploration in popular music as far as possible.

Their first album, "The Doors", was released in January 1967 and did nothing for six months. Then, "Light My Fire" was pulled as a single. It broke onto the charts in June of '67 and reached number one in the U.S. in August. It was Elektra's first top-ten record, after ten years of trying. The album it came from also went to number one and remained a best seller for one-hundred and four weeks. "Light My Fire" brought The Doors world wide success and eventual status as a legendary Rock 'n' Roll band. The hit singles continued with "People are Strange" (#12) and "Love Me Two Times" (#25) in 1967, "The Unknown Soldier" (#39) and "Hello, I Love You" (#1) in 1968, "Touch Me" (#3) in 1969 and finally, "Love Her Madly" *#11) and "Riders On The Storm" (#14( in 1971. With Morrison out front, egging on ever-growing crowds, the Doors created the aura of danger, taboo, and uncharted territory, even if the journey was really a little safer than it seemed. Morrison played the roll of pop star to the hilt... taking off his shirt, wearing tight leather pants, and posing for spreads in all the teen magazines. He was busted after one concert, and charged with exposing himself.

After their third album, Morrison seemed to lose enthusiasm for being the lead singer of a Rock 'n' Roll band. He grew increasingly difficult to work with, both on the road and in the studio. His troubles with the law and drugs seemed to have taken their toll. In the end, after conquering America, Morrison and his girlfriend Pamela moved to Paris, in March 1971, with the intention of starting a new life there. The couple were both dogged by drug and alcohol problems, and their stay reached a grievous conclusion on July 3, when the 27-year-old Morrison was found dead in his bathtub. Speculation abounded as to the exact cause of death. No autopsy was performed, but it seems likely that Morrison's body finally gave in to the rigors of his belief in 'delicious ecstasy'.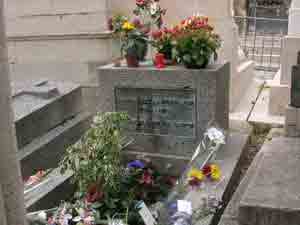 Jim Morrison's Grave at Pere Lachaise Cemetery
Photo courtesy of Kristy Bard
The Doors continued on for a while, but eventually broke up in 1973 after the remaining trio recorded two albums without Morrison. In 1991, Oliver Stone's film starring Val Kilmer further mythologized Morrison. During 1996, the greatest-hits album and "Absolutely Live" were re-released. Since his death, Morrison's grave in Paris' famed Pere Lachaise cemetery has been dotted with gifts and graffiti from a constant pilgrimage of fans. "I love it," Manzarek has said. "To me, it's a process; every five years there's a new generation of fifteen-year-olds discovering the Doors."
In September, 2002, nearly thirty years to the day after their final concert, a reunited version of Doors returned to the stage with a new singer, Ian Astbury of The Cult. The new Doors line-up also included founding members, guitarist Robbie Krieger, keyboardist Ray Manzarek along with drummer Stewart Copeland of The Police, filling in for John Densmore who was suffering from tinnitus, a constant ringing in the ears. Playing bass was Angelo Barbera. "The tragedy and loss of Jim Morrison weighs heavily on all of us, but this ain't no tribute band," said Manzarek backstage at the House of Blues in Los Angeles on September 3rd, after the band's first live appearance.

On February 28th, 2007, The Doors were honored with a star on the Hollywood Walk Of Fame. Guitarist Robby Krieger and keyboardist Ray Manzarek were on hand, along with Elektra Records founder Jac Holzman, who signed the band and worked closely with them in the studio. Drummer John Densmore didn't make it to the event. Since then, there has been a steady flow of Doors' material hitting the market. In July 2007, Rhino Records announced the release of "The Doors Live In Boston", a three-disc, live set recorded on April 10, 1970, as part of the Absolutely Live tour. March 2008 brought "The Doors - Pittsburgh Civic Arena", a live concert LP that was recorded on May 2nd, 1970. Next up, in November 2008, was "The Doors - Live at the Matrix 1967", a double live album compiled and re-sequenced from recordings made on March 7th and 10th, 1967 in San Francisco by club co-owner Peter Abram. The recording is notable because it is one of the earliest live recordings of the band known to exist. The band had recorded only one album by March 1967, "Light My Fire" had yet to be released as a single, and they were still relatively unknown outside Southern California. In November 2009, Rhino announced the release of "The Doors - Live in New York", a six-disc box set of the final four concerts performed by the group on January 17th and 18th, 1970 at the Felt Forum in New York City. About a third of the material on the set was previously unreleased. In April 2010, Rhino issued "The Doors - When You're Strange: Music From The Motion Picture", a single disc of the soundtrack to the 2010 documentary film about The Doors and their music. The collection features fourteen songs from The Doors' six studio albums, with studio versions mixed with live versions, including performances from The Ed Sullivan Show, Television-Byen in Gladsaxe, Felt Forum in New York and The Isle of Wight Festival. In November of that year came "The Doors _ Live in Vancouver 1970", a two-disc, live album. It was recorded on June 6th, 1970 in Vancouver, Canada. Vince Treanor, The Doors' tour manager, recorded the show on a Sony reel-to-reel, using two microphones placed on the stage. While not a multi-track high fidelity recording, it is clean and clear. In July 2011, "The Doors - A Collection" was released by Rhino, a six-CD retrospective box set of the first six albums that The Doors recorded from 1966 to 1971. It features re-mastered tracks by Bruce Botnik and original artwork in replicated paper sleeves. In January 2012 came "The Doors L.A. Woman (40th Anniversary)", a two CD re-issue of the original album, re-mastered, with an additional disc of bonus material.
In January, 2013, John Densmore revealed that he was writing a tell all"book about his longtime feud with band mates Robby Krieger and Ray Manzarek. The drummer would detail the legal spats between the existing band members in new book The Doors: Unhinged - Jim Morrison's Legacy Goes on Trial.
Doors fans were saddened to learn that Ray Manzarek passed away on May 20th, 2013 at the age of 74 after a long battle with bile duct cancer. That sad event prompted John Densmore to bury the hatchet with Robby Krieger and schedule a show at the Fonda Theatre in Los Angeles in Manzarek's honor on February 12th, 2016, which would have been Manzarek's 77th birthday. This reconciliation seems to indicate that all legal issues could be water under the bridge. Later in the year the band released a new limited-edition box set, "London Fog 1966", which collected their earliest known recordings. In late December, Densmore and Krieger announced that they would mark the 50th anniversary of the release of their debut album, "The Doors" with a special ceremony in Los Angeles on January 4th, 2017. That was to be followed by the release of the album, "The Doors: 50th Anniversary Deluxe Edition" later in the year. September, 2017 saw the release of a 50th anniversary edition of the LP "Strange Days", which spawned two hit singles, "People Are Strange" (#12) and "Love Me Two Times" (#25) in 1967. The bands' performance at the 1970 Isle of Wight Festival, which is believed to be the final filmed concert of their career, was scheduled for release on DVD and CD in February, 2018.
For more, be sure to read Gary James' Interviews with